Roll over image to zoom in







Description
ADVANCED PORTABLE AVIATION NAVIGATION WITH A 7" DISPLAY
Fly confidently with our rugged, reliable, purpose-built GPS that includes our latest in-flight features, including IFR approaches, arrivals and departures, plus our familiar touchscreen interface.

Bright days are no problem — with our vivid, sunlight-readable touchscreen display.

Make IFR flying easier by adding airways and IFR approaches, arrivals, departures and more to your route.

Be aware down low. See obstructions and wires with our WireAware™ wire-strike avoidance technology.
Weather and traffic? Check, and check. Just pair with a GTX™ 345 transponder or GDL® 52 series datalink.

Prep for your flight with wireless Internet weather and automatic data downloads.

Take off with round-trip power. Get up to 4 hours of battery life on each charge.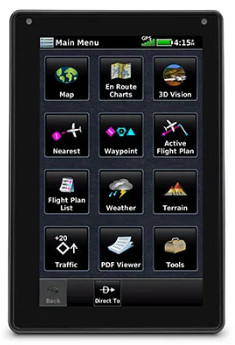 BRIGHT SCREEN
The large, sunlight-readable 7" touchscreen display is twice as bright as many tablets, with portrait and landscape display options and intuitive pinch to zoom and panning..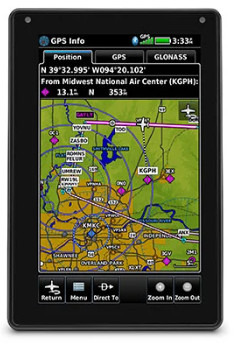 DYNAMIC MAPS
Quickly and reliably acquire GPS and GLONASS satellite constellations to display rich, interactive, dynamically drawn and customizable aviation maps.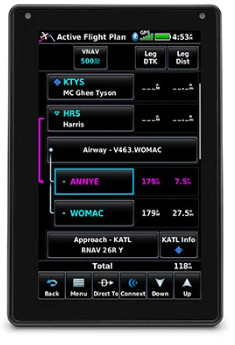 FLIGHT PLANS
Creating flight plans is easy. Enter a starting waypoint and destination, then insert segments — including airways, as well as IFR departures, arrivals and approaches.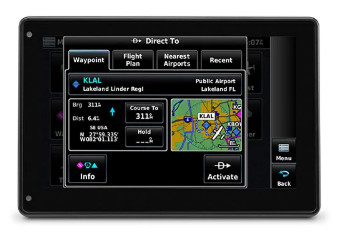 DIRECT-TO NAVIGATION
A Direct-to key on the screen lets you quickly enter a direct course for any selected waypoint. A menu of nearest airports and flight plan waypoints makes for easy entry..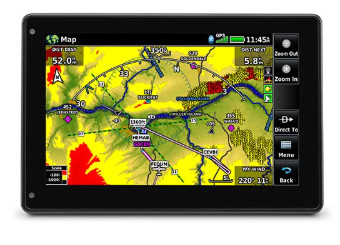 MAP TOPOGRAPHY
View ground references — including airports, cities, terrain, obstacles and more — on the dynamic map display to easily determine your position on VFR flights.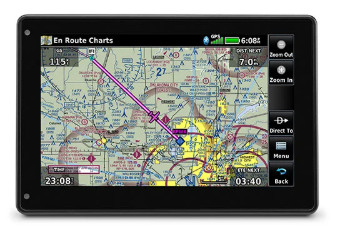 VFR SECTIONAL CHARTS
View georeferenced VFR sectional charts for the U.S., Canada and Europe.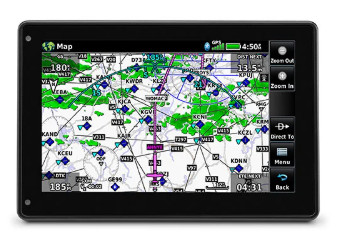 IFR ENROUTE CHARTS
Use IFR map mode to display and navigate on high or low enroute airways. Touch to view Minimum Enroute Altitudes and distances between intersections..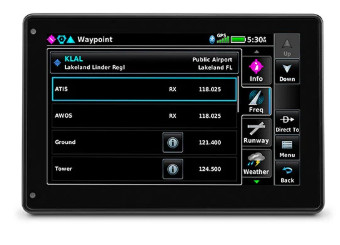 COMM CONNECTION
With an optional power/data cable, you can find and upload frequencies to select radios, including GTR 200 Comm radios, GTR 225 Comm radios, GNC 255 NAV/COMM radios and more.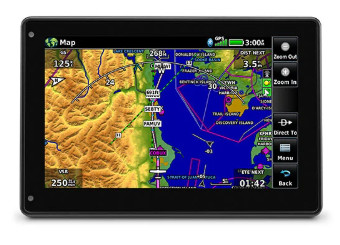 COCKPIT INTEGRATION
Interface aera 760 with the G3X autopilot or GFC™ 500 digital autopilot for coupled lateral and VFR vertical guidance, and upload or download flight plans wirelessly to select navigators.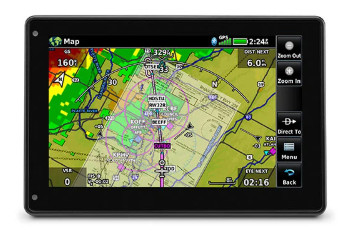 ADS-B DATALINKS
With available Garmin ADS-B "In" equipage solutions, aera 760 displays ADS-B traffic targets as well as subscription-free U.S. weather data — either wirelessly or with an optional power/data cable.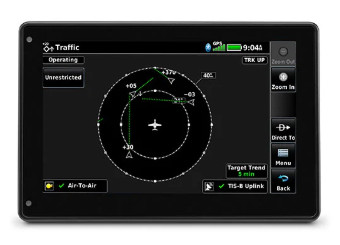 TARGETTREND™ TRACKING
Patented TargetTrend relative motion tracking on the aera 760 gives pilots a faster, more intuitive way to judge traffic closure rates and trajectories — so you can identify the greatest threat.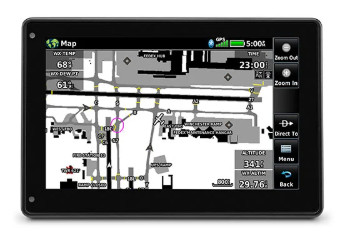 TERMINALTRAFFIC™ DISPLAY
Providing a dynamic display of ADS-B-equipped aircraft and ground vehicles, this technology helps pilots avoid traffic conflicts within the airport environment.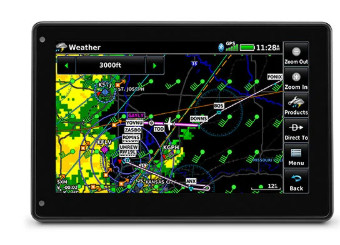 SIRIUSXM® SERVICE
When paired with an optional GDL 51 or GDL 52 datalink receiver, aera 760 can incorporate SiriusXM satellite weather coverage — plus audio entertainment features.

-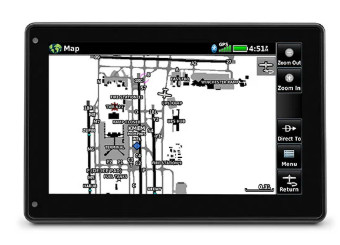 SAFETAXI® DATABASE
Upon landing, georeferenced SafeTaxi diagrams on aera 760 automatically help track your location on hundreds of airports and even identify published hot spots.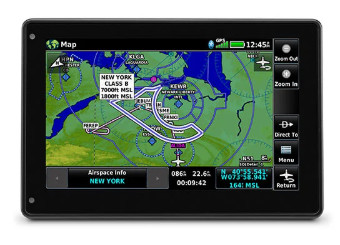 SMART AIRSPACE™
Patented Garmin Smart Airspace guidance highlights the airspace nearest your current altitude so you can quickly identify your location relative to the airspace around you.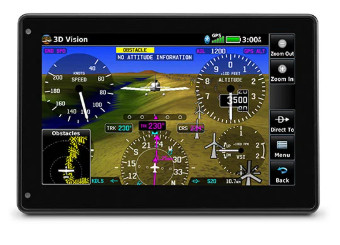 3D VISION
3D Vision technology gives you a virtual 3D behind-the-aircraft perspective view of surrounding terrain, obstacles and airports, as well as traffic (when equipped with ADS-B "In").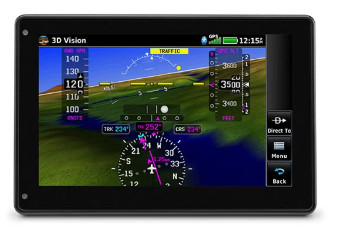 SYNTHETIC VISION
View Synthetic Vision (SVX™) by panel-mounting your aera 760 and using its built-in AHRS, or by connecting it to another device with an AHRS, such as a GDL 52 series datalink.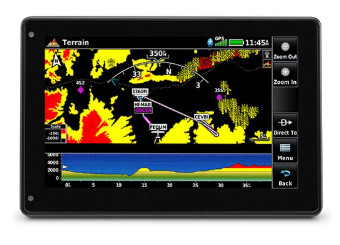 TERRAIN ALERTING
See your position above terrain and obstacles on the map and profile view. Obstacles within 1,000 feet (or a pilot-customizable height) are highlighted yellow, while obstacles within 100 feet are highlighted red.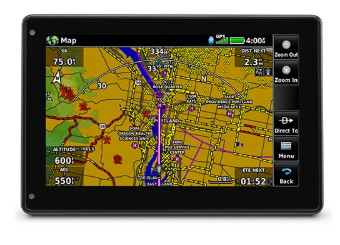 WIREAWARE™
Garmin WireAware wire-strike avoidance technology graphically overlays Hazardous Obstacle Transmission (HOT) lines that span rivers and canyons right on the moving map.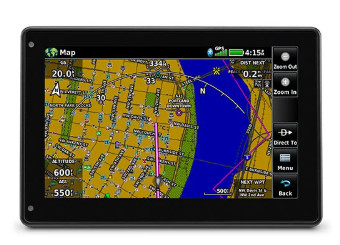 STREET INTERSECTIONS
Optional maps allow pilots to enter street intersections and other non-aviation waypoints for easy navigation.

-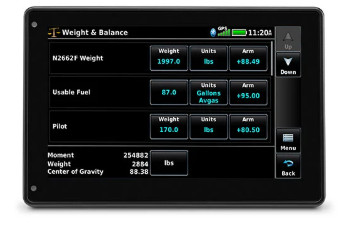 ELECTRONIC FLIGHT BAG
The aera 760 fulfills the role of an electronic flight bag, with georeferenced charts, pdf viewer, E6B computer, weight-and-balance calculator, logbook and more.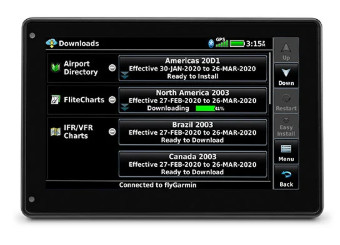 WI-FI® UPDATES
View Internet weather on the ground for pre-flight planning, and update databases at home via Wi-Fi. Plus, stay current throughout the year with a single annual subscription that includes all the databases you need.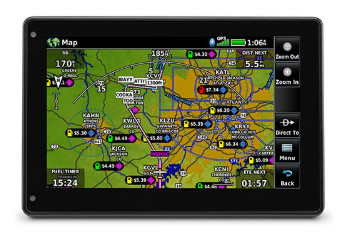 FUEL PRICES
Fuel price data can be overlaid on the map for at-a-glance awareness of the prices in an area — or viewed on the airport directory page.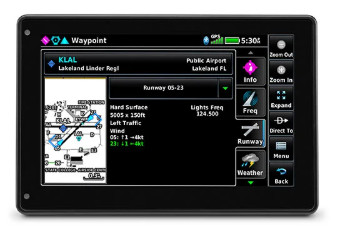 AIRPORT INFORMATION
Touch an airport symbol on the map to view its airport information page, and see runways, frequencies, NOTAMs, FBOs and more.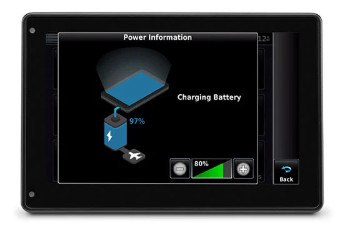 BATTERY LIFE
Get up to 4 hours of flight time on each charge, or easily power it in-flight with a USB-C cable.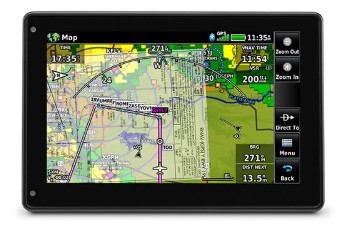 DEDICATED PARTNER
aera 760 combines many of the capabilities of panel-mounted avionics with a value-packed, purpose-built package. It's ready to fly, right out of the box.