Roll over image to zoom in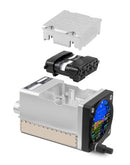 Description
When installed as a primary attitude indicator, the GI 275 offers improved reliability, potential weight savings and reduced maintenance compared to failure-prone vacuum-driven attitude indicators. When the GI 275 serves as primary for attitude information, pilots can also view altitude, airspeed and heading on the instrument. Optional SVT overlays a rich, 3D topographic view of terrain, traffic, obstacles, airport sign posts and more all within the GI 275 attitude display. The GI 275 also overlays a flight path marker within the SVT view, which takes into account crosswind, angle of attack and other factors to show precisely where the aircraft is flying.
The 4-in-1 GI 275 flight instrument is also approved for installation as a dedicated standby flight instrument to Garmin glass flight displays and is capable of serving as a back-up to a variety of third-party flight displays on the market. When installed as a standby to the G500 TXi, the GI 275 is capable of displaying additional multifunction display features. For back-up navigation information, a built-in VFR GPS enables convenient direct-to navigation guidance, displaying aircraft position information on a moving map. In installations where the GI 275 is installed as a primary or standby flight instrument, a 60-minute back-up battery is included.
REPLACE ANALOG GAUGES WITH ELECTRONIC DISPLAYS
Adaptable to a full range of instrument formats and functions, our GI 275 electronic display lets you keep the classic look of your panel while upgrading with modern, reliable glass touchscreen display technology.

Out with the old, in with the new. It flush mounts in a standard 3-1/8" round cutout.

From piston singles to jets, it's STC'd for over one thousand make/model aircraft.

How do you see it? Attitude, altitude, airspeed, CDI, HSI, MFD or EIS.

It's available with precise digital ADAHRS and interface to drive select autopilots.

Connect your cockpit with built-in Wi-Fi® connectivity and BLUETOOTH® technology.

Know you'll get home with up to 60 minutes of optional backup battery power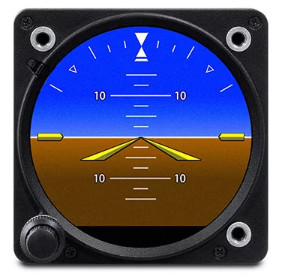 BASIC ATTITUDE
Save weight and maintenance expense: replace that aging vacuum pump-driven attitude indicator with a reliable solid-state ADAHRS-driven GI 275 electronic display.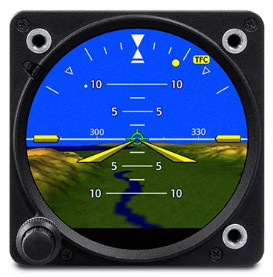 A LESS ARTIFICIAL HORIZON
To add situational awareness, your display can overlay attitude reference on an optional Garmin SVT™ synthetic vision landscape with flight path marker integration.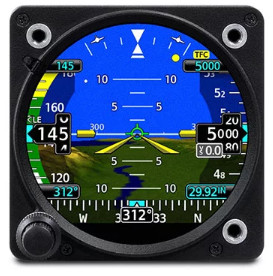 INSTRUMENT CONSOLIDATION
As your primary flight reference instrument, GI 275 features an integrated display to support all the essential readouts — attitude, altitude, airspeed and heading.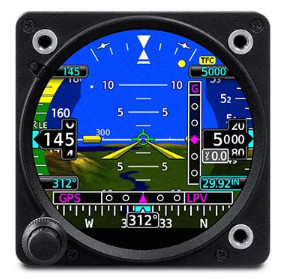 EDGE-TO-EDGE DISPLAY
The bright, high-resolution GI 275 touchscreen is sunlight-readable and maximizes the available space within the instrument panel cutout.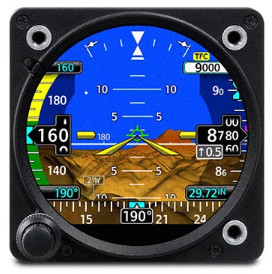 REFERENCE MARKERS
The GI 275 instrument can support display of selectable references to mark your arrival at a preselected altitude, heading or airspeed. Think overshoot avoidance.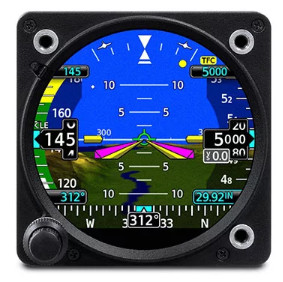 ADI AUTOPILOT INTEGRATION
With optionally available built-in autopilot interface, GI 275 can provide precise attitude information to drive select autopilots and display flight director command bar cues.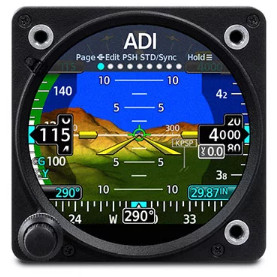 STANDBY ADI
For select aircraft and glass cockpit systems, GI 275 can function as a standby flight instrument with MFD capability for mapping, traffic, weather and more.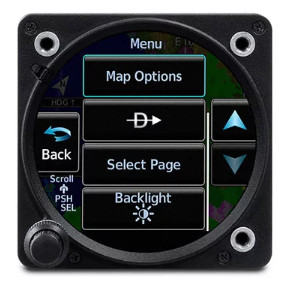 KNOB OR TOUCH CONTROLS
The touchscreen on GI 275 makes accessing its functions a breeze. A traditional concentric knob is also available for those who prefer that style of data input.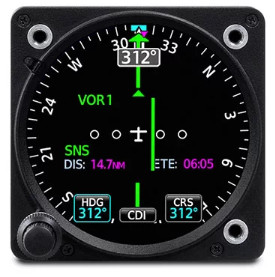 NAVIGATION GUIDANCE
In addition to primary magnetic heading reference, GI 275 can accept inputs for VOR/LOC and/or GPS course guidance — along with distance and ground speed indications.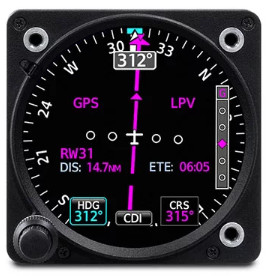 TRACK IN ALL DIMENSIONS
For climb/descent profiles and approaches, GI 275 can display both vertical and lateral GPS/VOR/LOC course deviation cues, when available.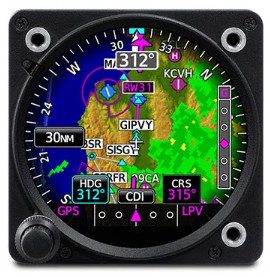 ENHANCED HSI
With appropriate nav inputs, GI 275 can optionally add HSI course guidance overlaid on a moving map display with flight plan legs, terrain, weather and more.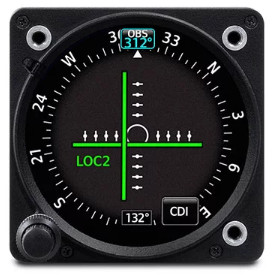 COMPLETE CDI SOLUTION
When paired with select VHF Nav radios or GPS navigators, GI 275 can serve as your primary indicator for making, adjusting and tracking course selections.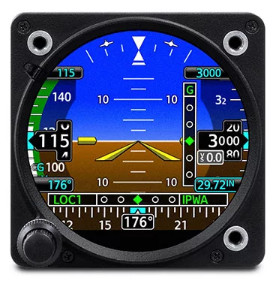 DUAL ADVANTAGES
With dual GI 275 displays as your primary flight instrumentation, reversionary backup capability retains attitude and heading data on the remaining HSI or MFD if an outage should occur.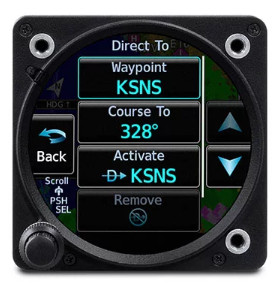 DIRECT-TO
For backup or nonprimary nav reference, built-in VFR GPS capability enables convenient Direct-to guidance with position depicted on the moving map display.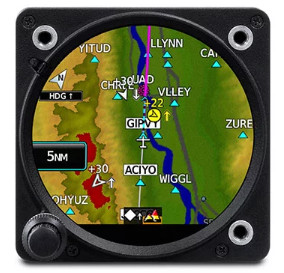 MULTIFUNCTION DISPLAY
When configured as an MFD, GI 275 can serve multiple roles, supporting displays for moving map, traffic, lightning, weather, terrain, radar altimeter, CDI and more.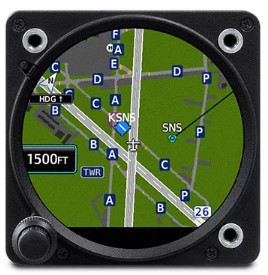 MOVING MAP
Within the MFD configuration, a dynamic moving map page offers views of terrain features, airports, airspace boundaries, navaids, flight plan routings and more.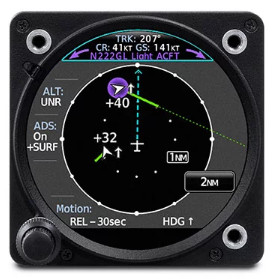 TRAFFIC AND WEATHER
With select ADS-B "In" datalinks, GI 275 MFD pages will support subscription-free U.S. weather and traffic displays, including TargetTrend™ and TerminalTraffic™ technologies.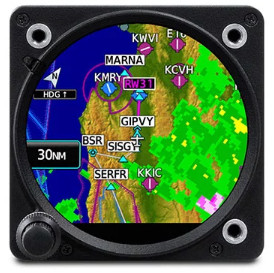 ANIMATED NEXRAD
When paired with an optional GDL® 69 SiriusXM® receiver, the MFD-configured GI 275 offers display capability for satellite weather coverage with graphical NEXRAD imagery.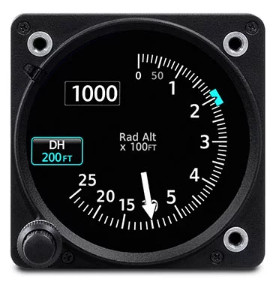 RADAR ALTIMETER
For applications that require precise tracking of aircraft altitude above the terrain, GI 275 can provide display capability for select radar altimeters, including the Garmin GRA™ altimeter series.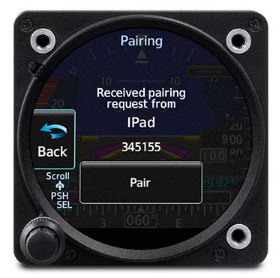 WIRELESS DATA STREAMING
Use built-in wireless connectivity to share data between the GI 275 and compatible mobile apps. Import databases. Stream weather, traffic, attitude information, EIS and more4.