Roll over image to zoom in

Description
Tap into a New Generation of Faster, Smarter Avionics
With more pixels, more processing power, more speed and performance, our GTN 650Xi system brings exciting new growth capabilities to the industry's premier GPS/Nav/Comm/MFD platform.

Visualize your entire flight plan, including holds and approaches on a big 4.9" touch display.

Faster is better. High-speed processors cut boot-up time by 50% over earlier GTN models.

Fly the approaches you want — from visual glidepaths to LPV, RNAV, ILS and more.

It's interface-friendly with a wide range of existing avionics, autopilots and flight displays1.

Wirelessly load flight plans and database updates with an optional Connext® link.

Upgrade? New GTN Xi series offers easy slide-in upgrade for existing GTN avionics.

DO-IT-ALL TOUCHSCREEN
Intuitive touchscreen interface provides quick access to navigation, radio tuning, multifunction display features and more.
LIGHTNING-FAST RESPONSE
Powerful dual-core processors boost the GTN Xi series graphical display capabilities — with faster zooming, panning and map rendering on the display.
HIGH-RESOLUTION DISPLAY
With almost double the pixel count of its predecessor, the GTN Xi series features wider viewing angles and one of the highest-resolution displays ever offered in this class of avionics.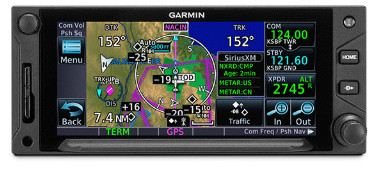 MULTIFUNCTION DISPLAY
Supporting multiple inputs, the 4.9" display can put moving maps, terrain, traffic, weather,airportdiagrams and more at your fingertips.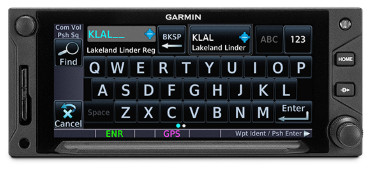 EASY DATA ENTRY
Use the on-screen QWERTY keyboard or traditional concentric knobs to enter frequencies, waypoint identifiers, routings and more.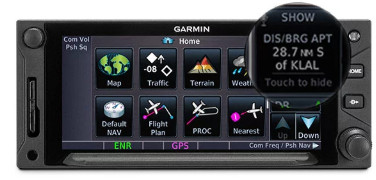 TELL IT, TUNE IT
Available Telligence™ voice control technology helps reduce pilot workload by responding to hundreds of spoken commands with the press of a button on the yoke.
PINCH, SWIPE GESTURES
A quick finger swipe lets you pan across the map display. Or use a smartphone-like pinch-to-zoom motion to scale up or down on any map, traffic or terrain page.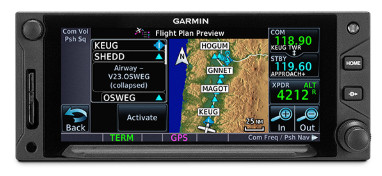 SEE THE FULL PICTURE
Graphical routing on the display lets you visualize your entire flight plan, including departures, arrivals, visual/instrument approaches, holding procedures and more.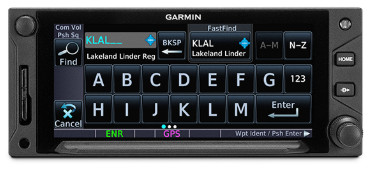 FAST FIND
As soon as you start typing, the GTN Xi FastFind feature uses quick predictive logic to suggest airport and waypoint entries by using current GPS position. Just select and go.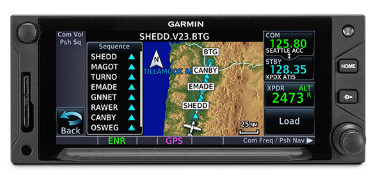 AIRWAYS, YOUR WAY
Victor airways and high-altitude jet routes can be overlaid on the map. For easy IFR routings, view airway segments available from a waypoint and corresponding exit options.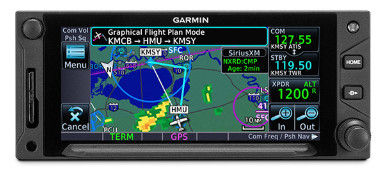 "RUBBER BAND" REROUTES
This handy feature lets you grab a flight plan leg on the screen, and then stretch or move it to adjust for a deviation or ATC amendment to your flight plan.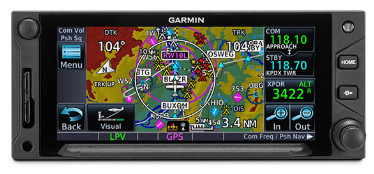 VIRTUAL MAP TOPOGRAPHY
By referencing built-in terrain, mapping and obstacles databases, GTN 650Xi shows detailed surface features, cities, airports, SUAs and more on the dynamic map display.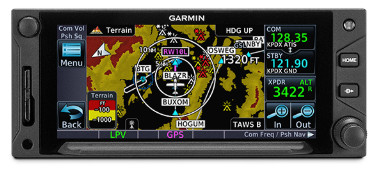 TERRAIN ALERTING
A built-in database provides color-coded display overlays to warn when potential terrain conflicts loom ahead. Class A or B TAWS alerting is optionally available.
DIRECT CONNECT
A Direct-to key on the bezel lets you quickly enter a direct course for any selected waypoint. A menu of nearest airports and flight plan waypoints makes for easy entry.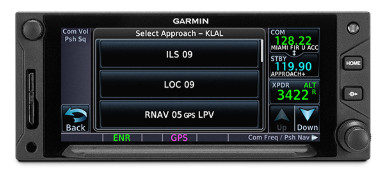 MORE APPROACH OPTIONS
The WAAS/SBAS-certified GPS receiver expands your landing options, enabling GPS-guided LPV glidepath approaches down to ILS-comparable minimums as low as 200'.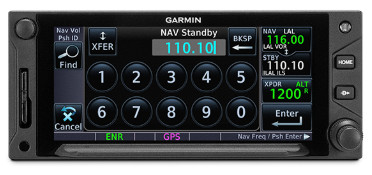 VHF NAVAID CAPABILITY
In addition to GPS guidance, full VHF navigation capabilities offer complete airspace system access, including VOR/ILS with localizer and glideslope.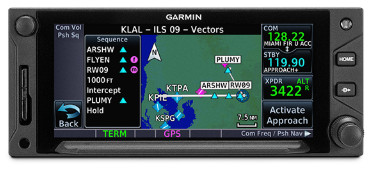 AUTO-ASSIST ENTRY
When loading procedures, the GTN Xi series will pre-enter NAV frequencies to standby position for quick access. It also auto-selects the VHF NAV source for ILS approaches.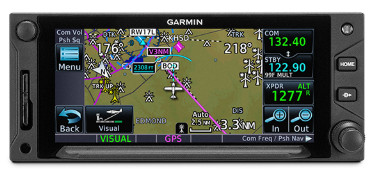 CLEARED FOR THE VISUAL
GTN Xi can give advisory visual approach guidance based on a published glidepath or a 3-degree slope from the runway threshold (with terrain/obstacle clearance).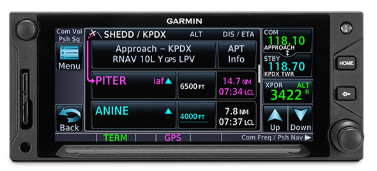 AUTOPILOT INTERFACE
Precise course deviation and roll steering outputs can be coupled to select autopilots, enabling virtually all IFR flight procedures to be flown automatically.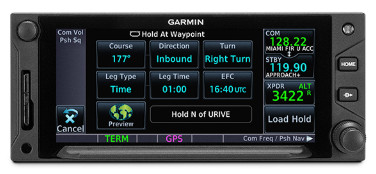 HOLDING PATTERNS
IFR pattern entries can be tricky. GTN 650Xi lets you easily create and execute holding patterns over a published or user-defined waypoint.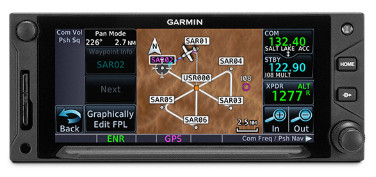 SEARCH AND RESCUE
For aerial surveillance, common search pattern types — including orbit, parallel line, expanding square and sector search — can be loaded into your flight plan on the GTN 650Xi navigator.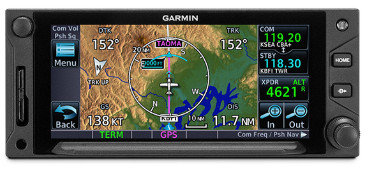 SUPPORTS VNAV AND MORE
With our GFC™ 500 and GFC 600, GTN 650Xi supports advanced modes and features such as vertical navigation profiles, radius-to-fix legs, missed approaches and more.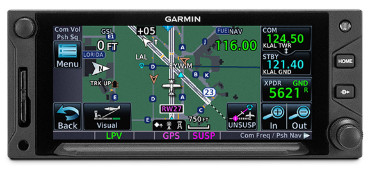 SAFETAXI® DATABASE
Upon landing, georeferenced SafeTaxi diagrams on the display automatically help track your location on hundreds of airports.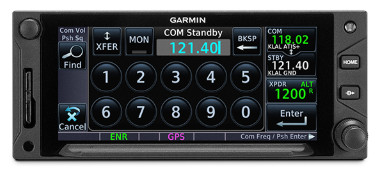 BUILT-IN COMM TRANSCEIVER
A 2,280-channel capable VHF Comm radio gives GTN 650Xi a standard 10 watts (or optional 16 watts) of talking power with pilot-selectable 25 kHz or 8.33 kHz channel spacing.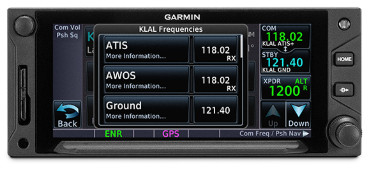 FIND A FREQUENCY
A work-saving lookup function lets you enter any navaid or airport identifier and have the GTN Xi navigator look up the frequencies for that location (tower, ground, ATIS, clearance delivery, etc.)
INSTANT RECALL
GTN Xi database technology allows you to quickly recall your most frequently or recently used frequencies. Plus, holding down the volume knob will dial up the emergency frequency..
STATION CONFIRMATION
If you're given a frequency by ATC, our GTN Xi lookup function will automatically provide the station identifier right below it. So you'll know you're making the right call.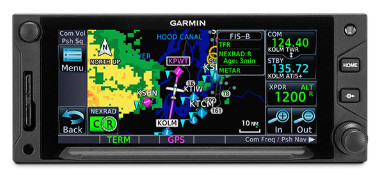 ADS-B DATA LINKS
With available Garmin ADS-B "In" equipage solutions, GTN 650Xi can display up to 60 ADS-B traffic targets as well as subscription-free U.S. weather data.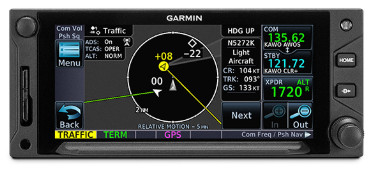 TARGETTREND™ TRACKING
ADS-B based TargetTrend relative motion tracking on the GTN Xi display gives pilots a faster, more intuitive way of judging traffic closure rates and trajectories.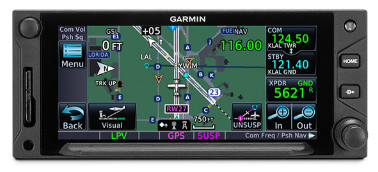 TERMINALTRAFFIC™ DISPLAY
Providing a dynamic display of ADS-B-equipped aircraft and ground vehicles, this technology helps pilots avoid traffic conflicts within the airport environment.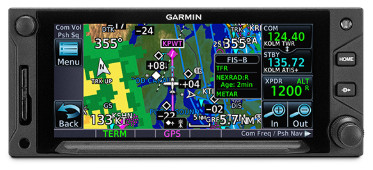 ACTIVE TRAFFIC SOLUTIONS
For more advanced traffic surveillance capability, GTN Xi can integrate with select TAS or TCAS/ACAS systems, including our GTS™ family of ADS-B enhanced products.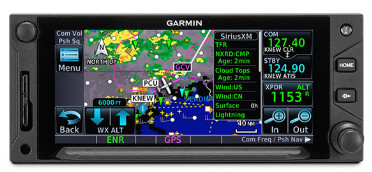 SIRIUSXM® SERVICE
When paired with an optional GDL® 69 datalink receiver, GTN Xi can incorporate SiriusXM satellite weather coverage — plus audio entertainment features.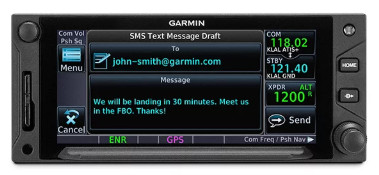 WORLDWIDE COMMUNICATIONS
Want global weather, radar imagery and two-way text/voice communications from the air? Connect your GTN 650Xi with our optional GSR 56 satellite link.

CONNECTED COCKPIT
Use optional Connext technology to stream information between GTN Xi and compatible Garmin portables or mobile devices running the Garmin Pilot™ or FltPlan Go apps.
FLIGHT PLAN TRANSFER
Save time by creating your flight plan on your mobile device at home, then use Connext2 to wirelessly upload the data into your GTN Xi during preflight at the airport.
FLIGHT STREAM
In addition to GPS data, a compatible Connext wireless gateway can stream ADS-B traffic, weather and backup attitude data to your mobile device in real time.
DATABASE SYNC
A Flight Stream 510 Connext gateway adds Database Concierge to your GTN Xi navigator. Upload databases from your tablet in minutes — then let automatic sync with your avionics do the rest.