WIRELESS DATABASE UPDATES
POWERED BY JEPPESEN AND BAD ELF
Jeppesen and Bad Elf have teamed up to bring the convenience of wireless flight database updates to every pilot, even those flying with older avionics. Now you can perform database updates using only your iPad or iPhone, in the cockpit, anywhere in the world. No avionics to upgrade, and it works with your existing JDM account.

JEPPESEN JDM MOBILE FOR IOS
Jeppesen, the worldwide leader in digital aviation data, has launched the mobile version of its Jeppesen Distribution Manager (JDM) Mobile. It supports the majority of general aviation avionics deployed today.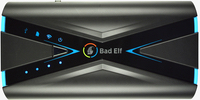 BAD ELF WOMBAT ACCESSORY
Bad Elf, the leader in innovative accessories for pilots flying with the iPad, developed the Wombat accessory to give JDM Mobile and other apps wireless access to avionics memory cards.